Recent Work
May 22nd 2020
From time to time newspapers buy my photographs for articles about nature and environmental
issues. One noteworthy article was in The Guardian newspaper written by none other than Brian May,
the famed guitarist with Queen, who is also an astronomer and badger welfare campaigner.
Read the article here:
https://www.theguardian.com/commentisfree/2016/aug/26/badger-cull-bovine-tuberculosis-tb
Badgers foraging in woodland.
May 21st 2020
Lake dwelling Kingfishers are difficult to get close to compared to Kingfishers on rivers. This image
took 2 weeks of careful planning. I kept my distance at about 30 meters to minimise disturbance and
used a silent shutter function on the camera.
Female Kingfisher on a fishing perch.
May 17th 2020
The first chicks of the season need constant feeding, in the case of the Spotted Flycatcher this means
plenty of mosquitoes, midges and other insects that the flycatcher snatches from mid air.
Spotted Flycatcher feeding chicks.
May 13th 2020
In Spring, Bumblebees depend on all the well known flowers like bluebells, dandelion, cuckoo flower, lesser
celandine, ramsons, garlic mustard, herb robert and buttercup. All these provide nectar and pollen to nourish
the next generation of bees. Leaving a border or a small patch of garden lawn un-mowed is a simple and
effective way of helping out our pollinators.
The Bumblebee and the Bluebell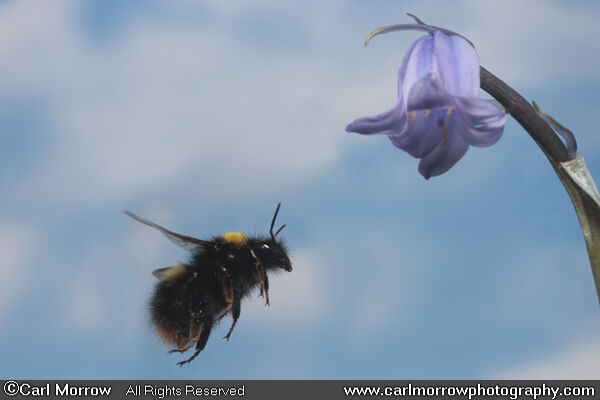 May 10th 2020
Green Veined White Butterfly in flight among Cuckoo flowers in a hay meadow where no
herbicides or chemical fertilizers are used. The hay is harvested in July/August when farmland
birds like Meadow Pipit, Snipe, Reed Bunting, Pheasant and Mallard Duck have finished nesting
and the wild flowers have gone to seed.
Green Veined White Butterfly among Cuckoo flowers.
May 5th 2020
Swallows regularly compete to snatch any feathers caught on the breeze to line their nests.
Swallows
April 22nd 2020
Every photographer has their favourite subject to photograph, mine is the Irish Hare.
Fast, hardy and always alert, this lagomorph is born to run.
Irish Hare
April 15th 2020
There is quite a lot of debate in the photography community about DSLRs versus Mirrorless.
From using both over the last few seasons, both systems have their advantages. For wildlife
photography, the silent shutter on the mirrorless cameras is a game changer. The ability to
photograph an animal without any noise from the camera is non-intrusive to animal behaviour
(something we should all strive for) and consequentially will increase the number and variety
of keeper images.
April 4th 2020
Covid 19 movement restrictions means photography has been limited to the garden for the last while.
For variety of subject matter, macro photography is king when shooting in the same location day after day.
Invertebrates come in all shapes, colours and patterns and require just as much patience and respect to
photograph as any larger animal.
Female Wolf Spider
Nectar feeding bug.
March 22nd 2020
The Spring Equinox time of year is always a huge turning point for wildlife photography. Opportunities
for photographs suddenly quadruple as animal behaviour goes into overdrive and there's 12 hours plus
of daylight to work with. This year i intend to adopt an opportunistic approach rather than set image goals.
The main tool i'll be using for this is the Sigma Sport 150-600 zoom telephoto lens which is a lot more
versatile and just as sharp as the Canon 600mm f4 i used to have.
March 10th 2020
Cleaned out all the bird nest boxes of any damp or dirty nesting material from last year. This should help
prevent any parasites from annoying the new born chicks this Spring. The leaves of Wild Garlic and
Lords and Ladies can be seen on the forest floor. I collected some garlic leaf tips for cooking with.
They also freeze well for use later on in the year.
February 28th 2020
Saturated soil, high water tables, flooded lakes and rivers, have offered up some photo opportunities.
Pike can be seen spawning in the shallows of lakes and rivers. Frogs and Newts are also breeding.
By using a home made Pole-Cam, i'm hoping to get close enough to capture some of this behaviour.
February 16th 2020
Just some of the prep work required before things get really busy: All lenses fully serviced and
cleaned, camera sensors cleaned, focusing rail cleaned and oiled, tripods cleaned and greased, high
speed insect capture rig readjusted and refined. Rucksack, camo netting, boots and jackets cleaned and
water proofed with bees wax, waders, hides and canoe patched up and repaired.
February 8th 2020
Storm Brendan and Storm Ciara have adversely effected photography projects over the last few weeks.
Reduced animal activity and poor lighting conditions meant i made just a few stock images over the whole
month. However Spring is just around the corner, bringing new opportunities for photographs of both plants
and animals.
January 4th 2020
It's been just 12 days since the Winter Solstice and there's the slightest lengthening of daylight hours,
mostly noticeable in the evenings. Territorial birdsong from Robin, Wren, Great Tit and Wood Pigeon can be
heard just before darkness falls each evening. Rook and Jackdaw are already circling and investigating their
nests from last year.
December 4th 2019
The long nights of Winter are an opportunity to photograph nocturnal foragers going about their business.
The leaf litter on the forest floor provides plenty of grubs, beetles, millipedes, centipedes etc. for omnivorous
mammals like Badger and Pine Marten. While the surrounding fields provides only a few feeding opportunities,
native woodlands sustain animals of all kinds over the four seasons.
Badger
Pine Marten
November 4th 2019
At 5 grams in weight and just 9cm from beak to tail, the Goldcrest is the smallest breeding bird in Europe.
Like all the small birds they have a fast paced lifestyle and are always a fun challenge to photograph. A
shutter speed of 1/500s, a telephoto lens of at least 400mm at a range of 5 meters are required to get a decent
portrait type image. At dusk, while packing up after a Goldcrest session, a juvenile Pine Marten made an appearance
close to the bird feeding station, attracted by some spilled peanuts. A reminder that Pine Marten are omnivores,
with berries and invertebrates making up a good proportion of their diet.
Goldcrest
Goldcrest
Goldcrest
Pine Marten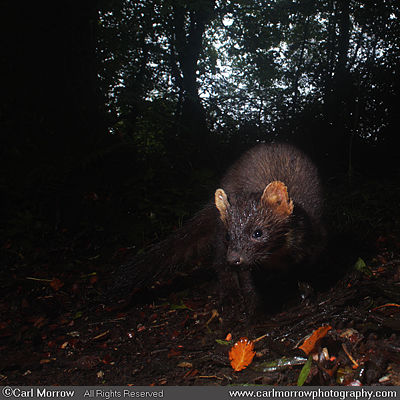 October 3rd 2019
Early mornings by a local lake proved productive over the last few weeks. Autumn light diffused
by mist and fog is ideal for landscape images and also softens shadows and highlights for
wildlife photography.
Red Squirrel.
Waning Moon during the morning blue hour.
Mute Swans taking flight.

Mallard Ducks at sunrise.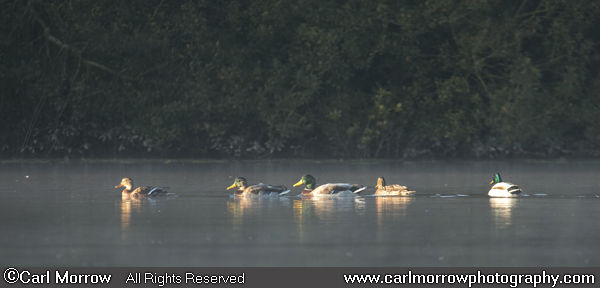 September 8th 2019
This month i have been mostly photographing Badgers, Butterflies, and Great Crested Grebes to help out a
nature charity with their information panel for their reserve.
Great Crested Grebe feeding chicks.
Peacock Butterfly
Badger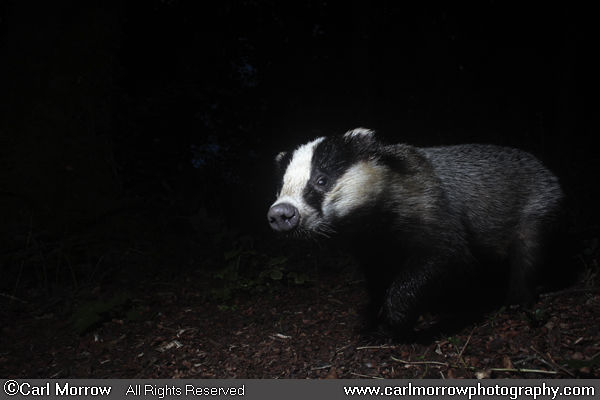 Silver Washed Fritillary Butterfly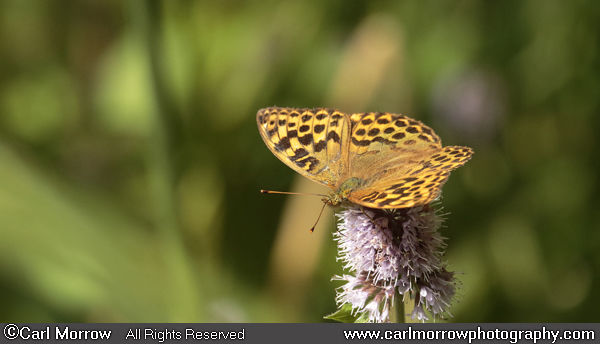 August 9th 2019
Kingfisher, Red Fox, Silver Washed Fritillary, Painted Lady Butterfly, Brown Hawker Dragonfly and Reed Bunting
featured in this month's projects.
Red Fox pup
Kingfisher female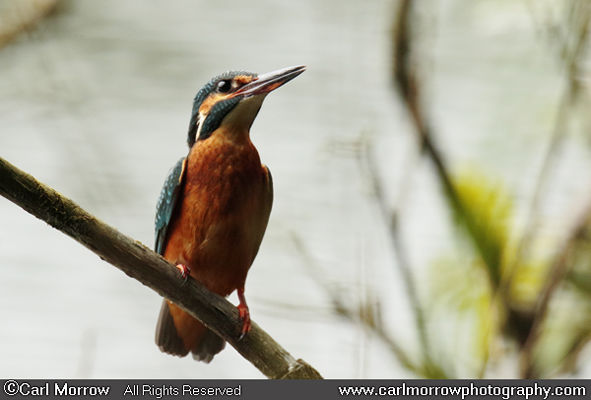 Brown Hawker Dragonfly in flight
Silver Washed Fritillary Butterfly
Painted Lady Butterfly
Reed Bunting female
July 30th 2019
At this time of year young Sparrowhawks can be heard in woodlands, begging unrelentingly for food from the parents.
Here, the larger female returns with some prey. She perched in an Ash tree right over my head and looked quite exhausted
after the hunt.
Sparrowhawk female
Sparrowhawk female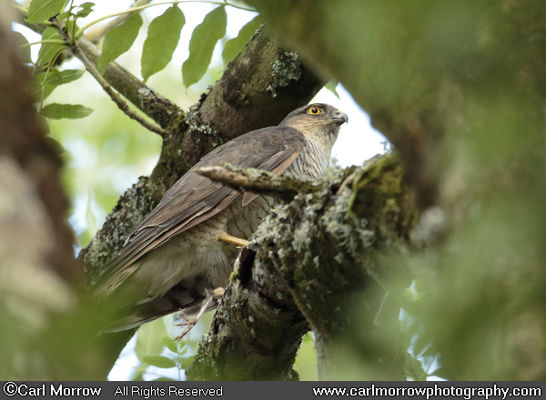 July 5th 2019
High Summer provides a huge variety of subject matter to photograph. However, the lure of hay making, gardening,
camping trips, fishing, and swimming can easily distract.
Soldier Beetle
Pine Marten
Poplar Hawkmoth
Hedgehog
Garden Spider
Green Dock Leaf Beetle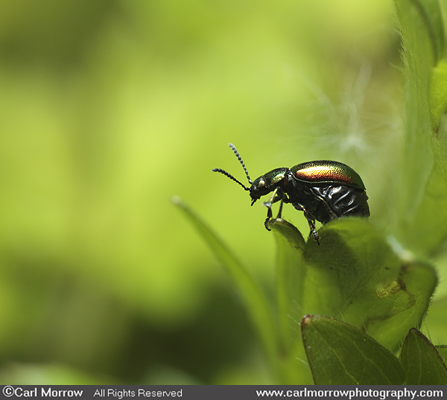 June 13th 2019
A casual wander for an hour or so on a Summer's evening provided an image harvest of
many different species. Most were this years progeny taking their first flight/steps in the world.
Sunset light on a juvenile Wren
Speckled Wood Butterfly
Swallows in flight
A soaring Common Buzzard
May 29th 2019
Fighting over territory, pairing up, home making and constant foraging, all the typical activities of Spring
are represented in images from the last few weeks.
Fighting Grey Wagtails
Great Crested Grebes
Wood Mouse
Bullfinch feeding on Wych Elm blossom.
May 7th 2019
Huge swarms of the Hawthorn Fly were evident this last week. Perfect subject matter to practice
2x-5x macro shooting with modified flash reflectors and diffusers. Also made some "landscapey"
type images which yielded a few wall art sales.
A leafless Ash tree silhouette
Hawthorn Fly aka St Mark's Fly
Sun rays.
April 15th 2019
Delighted to see the first of "my" swallows arrive back on Spring migration from Africa yesterday to claim her roost.
A lot of people admire them and are happy to welcome them into their sheds and outbuildings.
For folks who dislike their nesting habits, a securely placed 2ft square board or plastic sheet under a nest will prevent
droppings falling on vehicles, floors, tools etc.
March 30th 2019
In order to make the viewer appreciate the wonder of nature, sometimes it's necessary to abstractify a subject,
which will hopefully encourage him/her to ponder over the photograph for a little bit longer. In this instance, instead
of freezing the wing beats of a Rook in flight i used a slow shutter speed to show the movement of the wing beats and
of the whole bird as it moves through the air. See 4 examples below.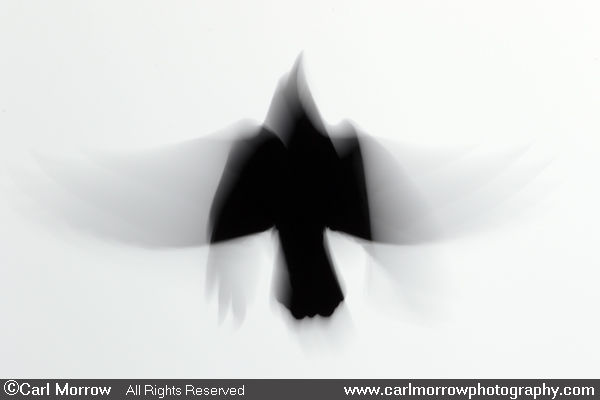 March 19th 2019
Gusting gale force winds and heavy rainfall meant my image output was well below average so far this
month. Aside from camera trapping, photography activity was confined to servicing lenses, cleaning
camera sensors, backing up files etc. Hopefully the Spring Equinox will bring a change to the weather
pattern.....
February 27th 2019
This month i've been experimenting again with a super telephoto lens, this time using it to make stitched panoramas.
As the frogs at the wildlife pond are in spawning mode, i took 7 vertical images, panning across the scene.
Keeping the same exposure settings for each, i then stitched them all together in post processing. Using this
technique gives me a large file, which in turn means i can make a professional grade panoramic print some
10ft wide for my clients, an ideal wall space filler in an office, business or gallery.
Breeding Frogs Panoramic
January 24th 2019
Using a telephoto lens of 400mm focal length or longer takes a lot of practice to get right. They are heavy (6kg in my case)
and have a very narrow field of view which makes framing and composing images of fast moving animals a challenge.
Big lens practice has been the main occupation this month resulting in a few useful stock images.
Kestrel
Whooper Swans
Long Tailed Tit
Curlew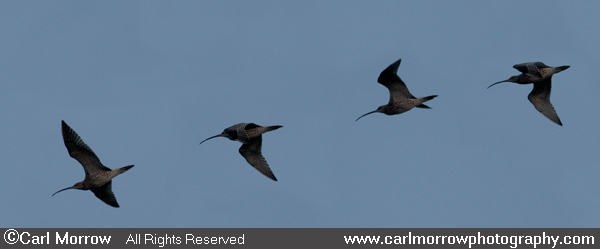 December 31st 2018
Pine Marten and Badger featured the most in my work over the last month. For nocturnal mammals
the long mild nights offer plenty of time to forage and mark territory boundaries. By setting my camera
up on regularly used trails i managed to make some publishable images.
Pine Marten
Badger
Pine Marten
November 24th 2018
Winter offers many opportunities for nature photographs. Migrant birds from the far north suddenly
appear, resident animals are more approachable and the light is relatively pollen free and diffused.
As long nights draw in, i build campfires and cook food in order to stay out as long as possible.
Badger, Wood Pigeon, Red Fox, Fieldfare, Redwing, and Whooper Swan have been subjects so far.
Red Fox
Wood Pigeon
Red Fox
October 27th 2018
Multiple attempts over 3 years and finally a low angle Red Fox image in woodland habitat at night in Autumn.
In Autumn and Winter a fox's coat grows a lot thicker to keep warm, also making it more photogenic. Foxes
are omnivores which means they eat fruit and some plants as well as small animals. Their usefulness at
controlling rodent numbers is greatly unappreciated in Ireland.
Red Fox
September 26th 2018
Changing weather patterns have both frustrated and aided this months photography. The race is on to build up
fat reserves for many animals while food is plentiful. This extra activity by a wide variety of species means using
all the different techniques i've learnt over the years . Subjects photographed so far include, Badger, Treecreeper,
Devil's Coach Horse Beetle, Wood Mouse, Mute Swans, Centipede, and a few species of tiny Micro moths.
Treecreeper
Mute Swans' approach flight
Badger on the move
August 31st 2018
Decaying orchard windfall fruit attracting butterflies and other insects provided some macro subjects over the last few days,
also had close encounters with Raven and juvenile Sparrowhawk. The latter attempting to capture a Kingfisher over open
water on a small lake, unfortunately the attack was too far away for a useful image. Species photographed this month include Red admiral Butterfly, Green Veined White Butterfly, Raven, Red Squirrel, and Bullfinch.
Red Admiral Butterfly on rotten windfall apple.
Green Veined White Butterfly on Water Mint
Red Admiral Butterfly on rotten windfall apple
Raven
July 27th 2018
High Summer is my main season for insect photography. There are hundreds of species to choose from at this time of year in the Cavan area. Extreme macro, normal macro and insect in flight photography techniques take plenty of practice before even average photographs can be achieved. So I've spent many days by the wildlife pond, by hedgerows, field margins and woodland edges to make publishable photographs of Brown Hawker Dragonfly, Azure Damselfly, Soldier Beetle, Sexton Beetle, Green Leaf Hopper, Horse Fly, and Four Spotted Chaser Dragonfly, to name some of them.
Brown Hawker Dragonfly
Horse Fly compound eyes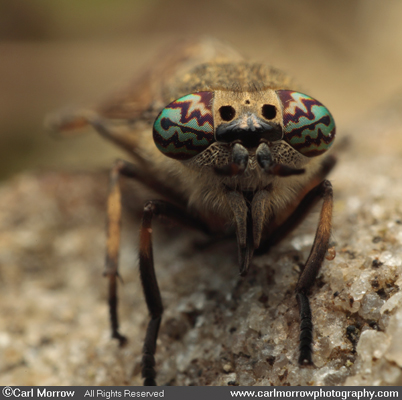 Four Spotted Chaser Dragonfly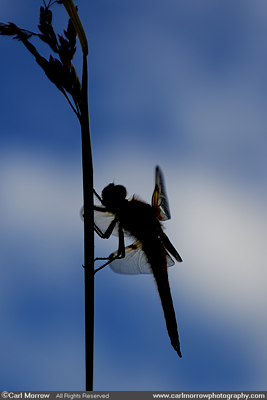 Compound Eyes of a Dragonfly
June 29th 2018
Long Summer days are great for nature photography, providing almost infinite scenarios and subject matter, even in Ireland which isn't as bio-diverse
as other parts of the world. Subjects photographed this Summer so far: Hairy Dragonfly egg laying, Great Crested Grebe, Ringlet Butterfly, Shoaling Perch and Roach, Reed Bunting, Bullfinch, Four Spotted Chaser Dragonfly, Snipe Fly, Azure Damselfly hatching out, Reed Beetle, Willow Warbler, Mute Swan, Speckled Wood Butterfly, Lone tree on a foggy dawn morning, Chicken of the Woods Fungi.
Lone Tree on a foggy dawn.
Male Bullfinch.
Hairy Dragonfly laying her eggs in aquatic plants.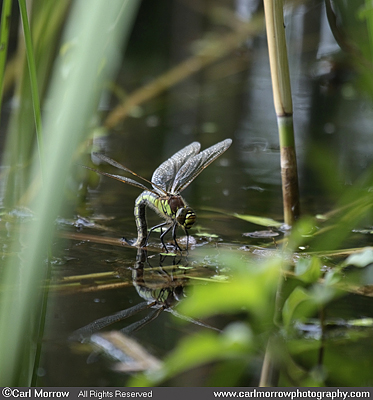 May 24th 2018
Initial test images from the diy underwater housing look promising, clear water and good light over the coming months will hopefully produce some useful pictures.
Subjects photographed so far this Spring include: Fulmar, Gannet, Great Skua, Greater Black Backed Gull, Lesser Black Backed Gull, Herring Gull, Black Guillemot, Green Dock Leaf Beetle, Spotted Flycatcher, Bullfinch, a Rookery, Carder Bee, Zebra Jumping Spider, St. Marks Fly, Red Ant, Bluebells, Treecreeper, Badger, Collared Dove, Bird Cherry, Swallow, Hooded Crow, and Goldcrest. See some samples below.
Bluebells
Treecreeper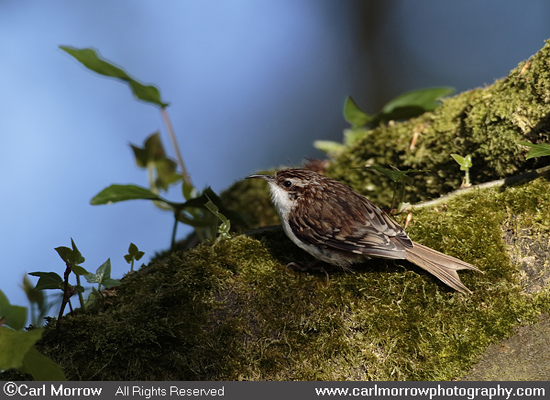 Zebra Jumping Spider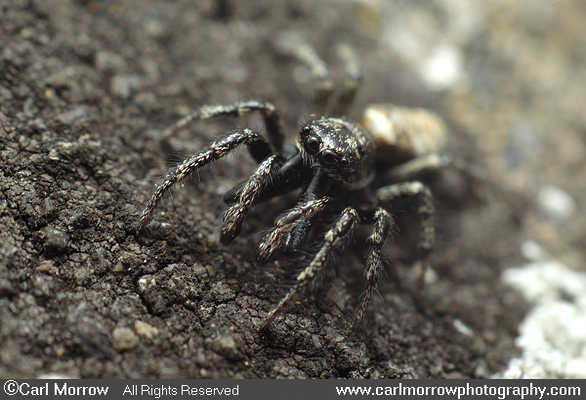 Great Skua at sea
March 23rd 2018
Currently making an underwater dslr camera housing for photographing freshwater fish.
Also getting to grips with large format photography using a 6cm x 17cm panoramic 120 roll film back on a 4x5 field camera. Image turnaround with this system will be approximately 20 images per year. Looking forward to shooting landscapes on film where resolutions of 150 megapixels can be acquired from the scanned film, suitable for detailed panoramic prints 4.5 meters long and 1.5 meter wide.
The nocturnal woodland mammals project continues, usually get 3 or 4 publishable images every week, here's some examples: