Ref:
Date:
Unauthorised Copying is theft!
Photographer:
[clikcontent type=paymentBuyLink replaceable=true]
Ref:
Date:
Unauthorised Copying is theft!
Photographer:
[clikcontent type=paymentBuyLink replaceable=true]
updates
Recent Work
January 24th 2019
Using a telephoto lens of 400mm focal length or longer takes a lot of practice to get right. They are heavy (6kg in my case)
and have a very narrow field of view which makes framing and composing images of fast moving animals a challenge.
Big lens practice has been the main occupation this month resulting in a few useful stock images.
Kestrel
Whooper Swans
Long Tailed Tit
Curlew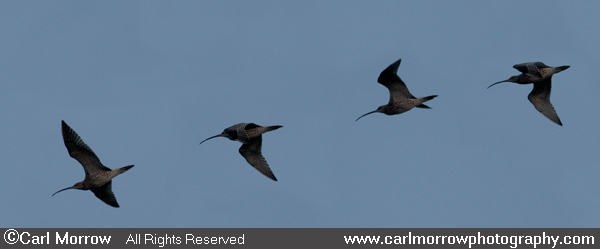 December 31st 2018
Pine Marten and Badger featured the most in my work over the last month. For nocturnal mammals
the long mild nights offer plenty of time to forage and mark territory boundaries. By setting my camera
up on regularly used trails i managed to make some publishable images.
Pine Marten
Badger
Pine Marten
November 24th 2018
Winter offers many opportunities for nature photographs. Migrant birds from the far north suddenly
appear, resident animals are more approachable and the light is relatively pollen free and diffused.
As long nights draw in, i build campfires and cook food in order to stay out as long as possible.
Badger, Wood Pigeon, Red Fox, Fieldfare, Redwing, and Whooper Swan have been subjects so far.
Red Fox
Wood Pigeon
Red Fox
October 27th 2018
Multiple attempts over 3 years and finally a low angle Red Fox image in woodland habitat at night in Autumn.
In Autumn and Winter a fox's coat grows a lot thicker to keep warm, also making it more photogenic. Foxes
are omnivores which means they eat fruit and some plants as well as small animals. Their usefulness at
controlling rodent numbers is greatly unappreciated in Ireland.
Red Fox
September 26th 2018
Changing weather patterns have both frustrated and aided this months photography. The race is on to build up
fat reserves for many animals while food is plentiful. This extra activity by a wide variety of species means using
all the different techniques i've learnt over the years . Subjects photographed so far include, Badger, Treecreeper,
Devil's Coach Horse Beetle, Wood Mouse, Mute Swans, Centipede, and a few species of tiny Micro moths.
Treecreeper
Mute Swans' approach flight
Badger on the move
August 31st 2018
Decaying orchard windfall fruit attracting butterflies and other insects provided some macro subjects over the last few days,
also had close encounters with Raven and juvenile Sparrowhawk. The latter attempting to capture a Kingfisher over open
water on a small lake, unfortunately the attack was too far away for a useful image. Species photographed this month include Red admiral Butterfly, Green Veined White Butterfly, Raven, Red Squirrel, and Bullfinch.
Red Admiral Butterfly on rotten windfall apple.
Green Veined White Butterfly on Water Mint
Red Admiral Butterfly on rotten windfall apple
Raven
July 27th 2018
High Summer is my main season for insect photography. There are hundreds of species to choose from at this time of year in the Cavan area. Extreme macro, normal macro and insect in flight photography techniques take plenty of practice before even average photographs can be achieved. So I've spent many days by the wildlife pond, by hedgerows, field margins and woodland edges to make publishable photographs of Brown Hawker Dragonfly, Azure Damselfly, Soldier Beetle, Sexton Beetle, Green Leaf Hopper, Horse Fly, and Four Spotted Chaser Dragonfly, to name some of them.
Brown Hawker Dragonfly
Horse Fly compound eyes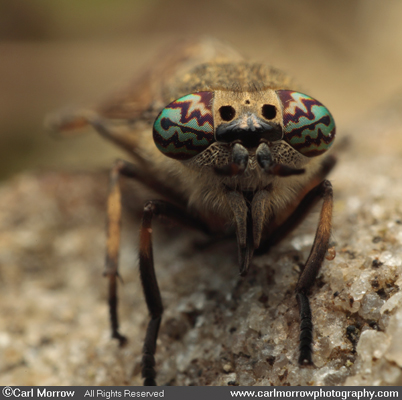 Four Spotted Chaser Dragonfly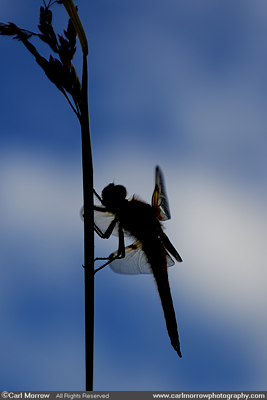 Compound Eyes of a Dragonfly
June 29th 2018
Long Summer days are great for nature photography, providing almost infinite scenarios and subject matter, even in Ireland which isn't as bio-diverse
as other parts of the world. Subjects photographed this Summer so far: Hairy Dragonfly egg laying, Great Crested Grebe, Ringlet Butterfly, Shoaling Perch and Roach, Reed Bunting, Bullfinch, Four Spotted Chaser Dragonfly, Snipe Fly, Azure Damselfly hatching out, Reed Beetle, Willow Warbler, Mute Swan, Speckled Wood Butterfly, Lone tree on a foggy dawn morning, Chicken of the Woods Fungi.
Lone Tree on a foggy dawn.
Male Bullfinch.
Hairy Dragonfly laying her eggs in aquatic plants.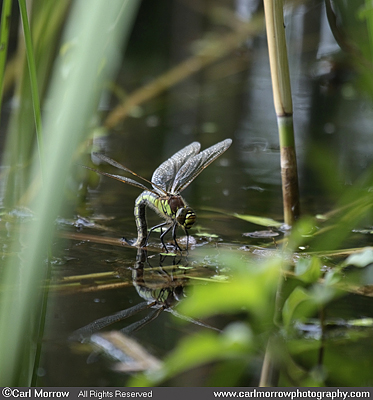 May 24th 2018
Initial test images from the diy underwater housing look promising, clear water and good light over the coming months will hopefully produce some useful pictures.
Subjects photographed so far this Spring include: Fulmar, Gannet, Great Skua, Greater Black Backed Gull, Lesser Black Backed Gull, Herring Gull, Black Guillemot, Green Dock Leaf Beetle, Spotted Flycatcher, Bullfinch, a Rookery, Carder Bee, Zebra Jumping Spider, St. Marks Fly, Red Ant, Bluebells, Treecreeper, Badger, Collared Dove, Bird Cherry, Swallow, Hooded Crow, and Goldcrest. See some samples below.
Bluebells
Treecreeper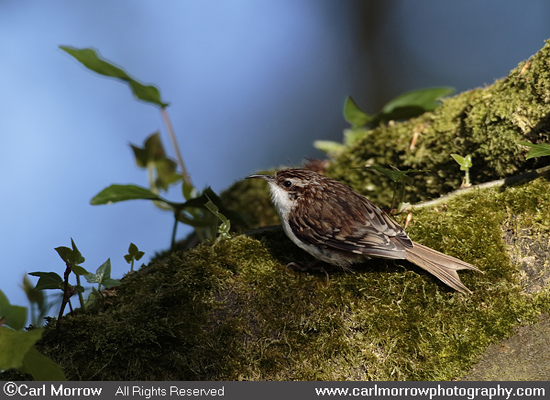 Zebra Jumping Spider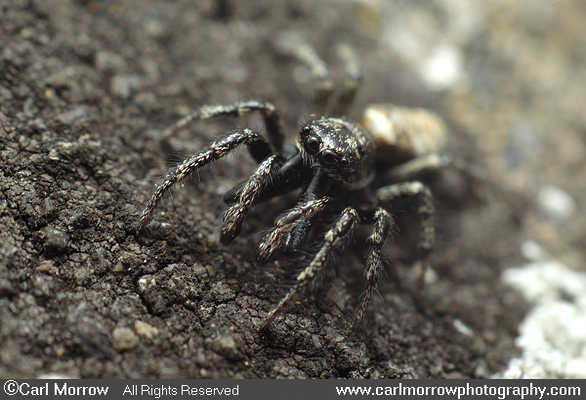 Great Skua at sea
March 23rd 2018
Currently making an underwater dslr camera housing for photographing freshwater fish.
Also getting to grips with large format photography using a 6cm x 17cm panoramic 120 roll film back on a 4x5 field camera. Image turnaround with this system will be approximately 20 images per year. Looking forward to shooting landscapes on film where resolutions of 150 megapixels can be acquired from the scanned film, suitable for detailed panoramic prints 4.5 meters long and 1.5 meter wide.
The nocturnal woodland mammals project continues, usually get 3 or 4 publishable images every week, here's some examples: